French, US and Italian firms invited to bid for block 7 in Cyprus EEZ
04.10.2018
UNCATEGORIZED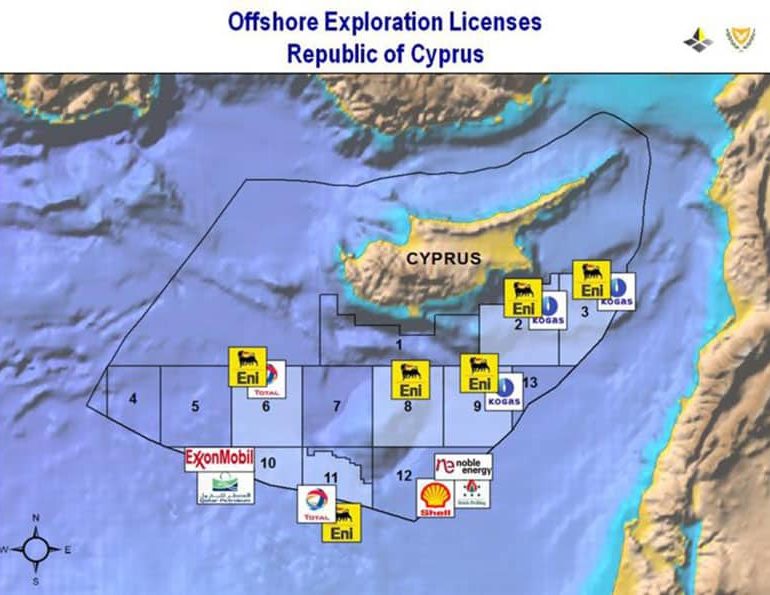 The cabinet decided on Wednesday to invite energy giants already licensed to explore for oil and gas in Cyprus' Exclusive Economic Zone (EEZ) to bid for an unclaimed block.
---
This means that US giant ExxonMobil, France's Total, Italy's ENI are all eligible to bid for a license to explore and exploit block 7 offshore Cyprus.
Speaking after the Cabinet meeting, Energy Minister George Lakkotrypis said that, due to its geology, different companies have expressed an interest in block 7 and so it was decided to invite companies, that already have licences in neighbouring offshore blocks, to express an interest.
He said the process would be similar to the third licensing round and would involve those companies awarded licenses in blocks 6 (ENI & Total), 8 (ENI), 10 (ExxonMobil) and 11 (Total & ENI) of Cyprus' EEZ.
The Minister clarified that Nicosia decided to proceed with exploiting block 7 due to "very specific geological reasons" that have to do with the Calypso field, a discovery in block 6 of Cyprus' EEZ, announced by ENI in February.
ENI is the operator of Block 6 with a 50% participation interest while Total is its partner holding the remaining 50%.
The Calypso field is considered by ENI to be a promising gas discovery that confirmed the extension of the "Zohr like" play in the Cyprus blocks.
Asked to comment on reprots that Total and ExxonMobil are planning to create a consortium for block 7, Lakkotrypis said that he did not want to predict what the companies would do.
Those interested will have one month to submit their bids for the block. Those bids will then go to an advisory committee and a negotiation process will follow.
Also, on Wednesday the cabinet approved the tender documents for the creation of a €300 mln infrastructure project for the import of liquefied natural gas (LNG) that is partly funded by the EU.
Referring to the infrastructure for the import of LNG in Cyprus, Lakkotrypis said that the estimated cost of approximately €300 mln, included a €100 mln subsidy from the European Union.
The tender covers among other things, the purchase of a floating LNG unit, the construction of a jetty, the construction of a pipeline from the floating unit to Vassiliko power station and a storage system.
Texas-based Noble Energy in 2011 made the first discovery off Cyprus in the Aphrodite block estimated to contain around 4.5 trillion cubic feet of gas – it has yet to be commercialised.
The discovery of nearby Egypt's huge Zohr offshore reservoir in 2015 has stoked interest that Cypriot waters hold the same riches.
Cyprus aims for natural gas to start flowing to Egypt's LNG facility in 2022, therefore generating its first revenue from natural gas in the same year.
Source: Financial Mirror